Protecting the Eyes from Blue Light
Case Study
Protecting the Eyes from Blue Light
Manufacturer wanted to fulfil demand for highly-transparent polycarbonate lenses.
Eyeglass lens manufacture Product development
Summary of the Solution
The manufacturer drew on Teijin's broad technical expertise.

Teijin offers three grades of resin, each having a different light transmission rate, making possible flexible solutions for the optical design of lenses.

Creating a Transparent, Blue Light Block Eyeglass Lens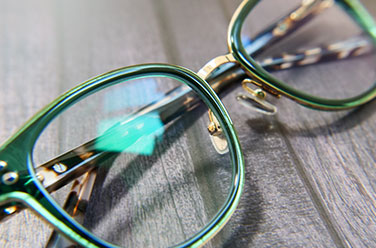 At around this time, an employee from the manufacturer's product development team met with representatives of Teijin, a leader in the field of optical resins, with the aim of developing a high value-added lens. The employee received information on Teijin's recently-released resin grades and details thereof.
Teijin possessed a great deal of expertise in resin manufacture and in techniques for giving resins optical properties. In particular, in the materials development area, Teijin drew on its experience with developing ultraviolet ray protection resins to tackle the thorny problem of engineering a polycarbonate resin that could block blue light without sacrificing any of the resin's other properties. By employing nontraditional methods and creating many prototypes, Teijin eventually succeeded in developing a highly transparent eyeglass lens material that had the same physical and other properties as conventional lenses, while at the same time effectively blocking blue light.
The polycarbonate resin used in this blue light blocking lens possessed four properties that made it an excellent option for spectacle manufacture:
- The material significantly block the penetration of the high-energy (400 to 420 nm) visible light that is considered to be the most damaging wave length of blue light.
- Despite the addition of the bule light block function, the molded eyeglass lenses are transparent without any decrease in strength or coloration.
- To enable the flexibility of optical design that is so important for eyeglass lenses, Teijin offers three resin grades, each of which has a different blue light transmittance ratio.
- Requiring no major changes to coating processes and no need to add new processes, the material also promised to boost the efficiency of the manufacturing process.
Teijin's polycarbonate resin, with these properties, was a more promising material than expected for the realization of bule light block eyeglass lenses, one of the high value-added products the manufacturer was considering.
Thanks to Teijin's assistance, the manufacturer successfully produced a prototype blue-blocking lens. The manufacturer is currently in the final stages of the product release process, and has subjected the prototype to various property, strength, and durability testing, all of which are expected to pass.
Solutions and products that solved these challenges
Inquiry about our products