Environmental Activities

Environmental Products Vision

Teijin designs products and services that are friendly to People, The Earth, and Business
Teijin designs the most suitable solution for your environmental activities from many options
Environmental Products Portfolio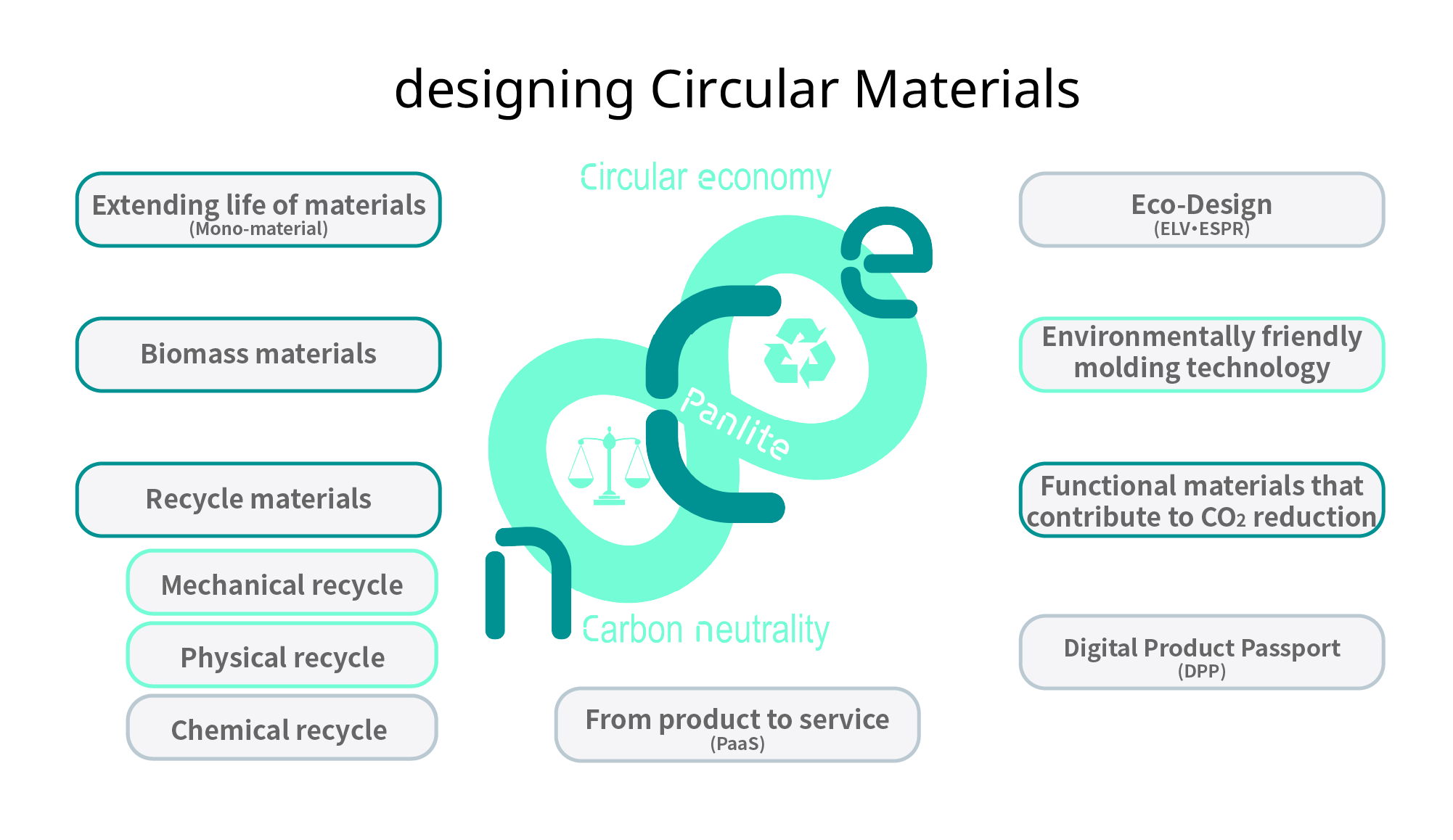 We will practice " Creating products and services that eliminate the concept of waste
We redesign the entire product life cycle by considering waste as a resource.
Approaches to the realization of Circular Materials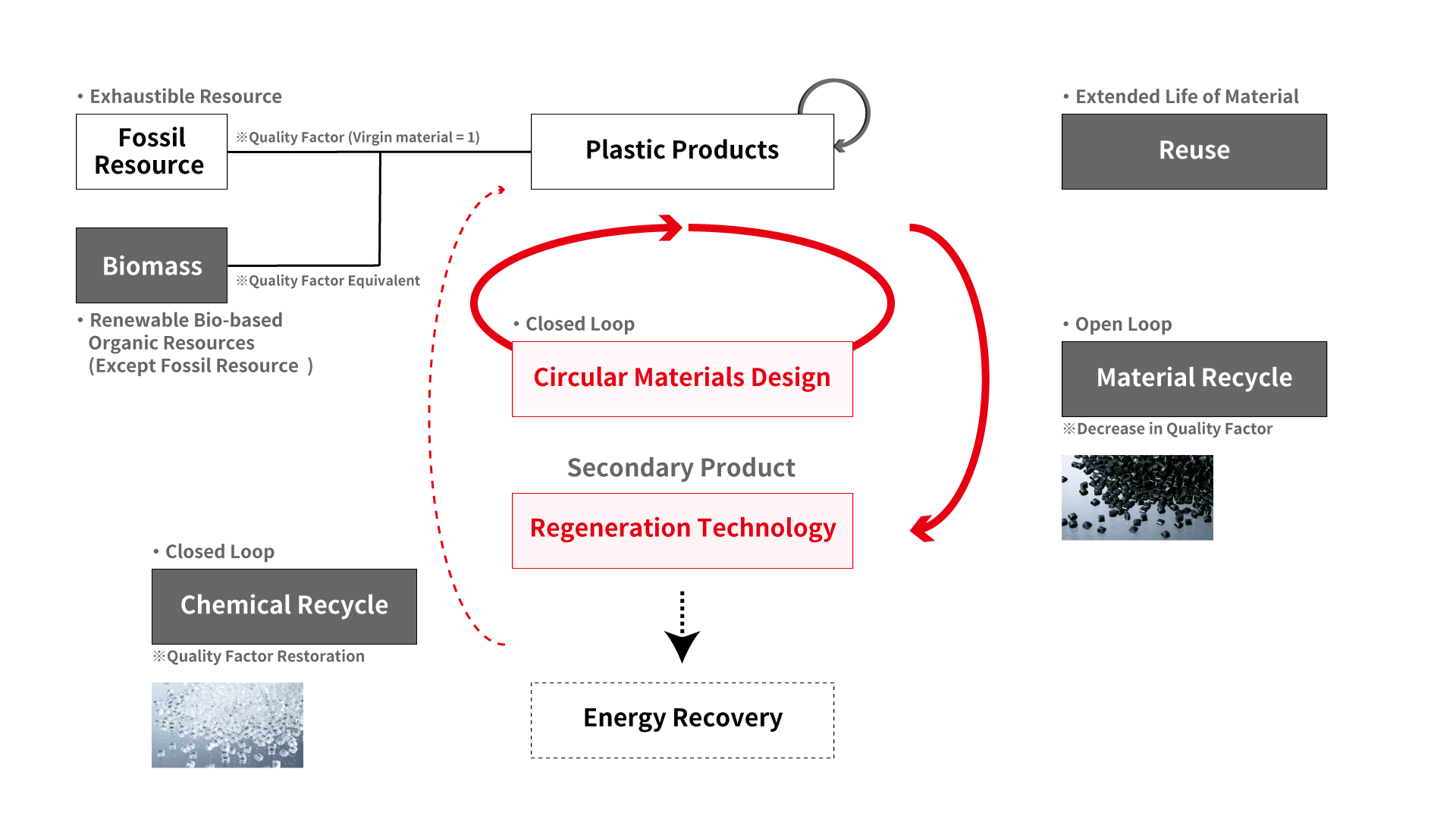 We provide materials made from Renewable Bio-based Organic Resources (Bio-mass)
We provide materials that can contribute to the long life (reuse) of products.
We provide materials based on Circular Material Design
Circular Materials platform created with our customers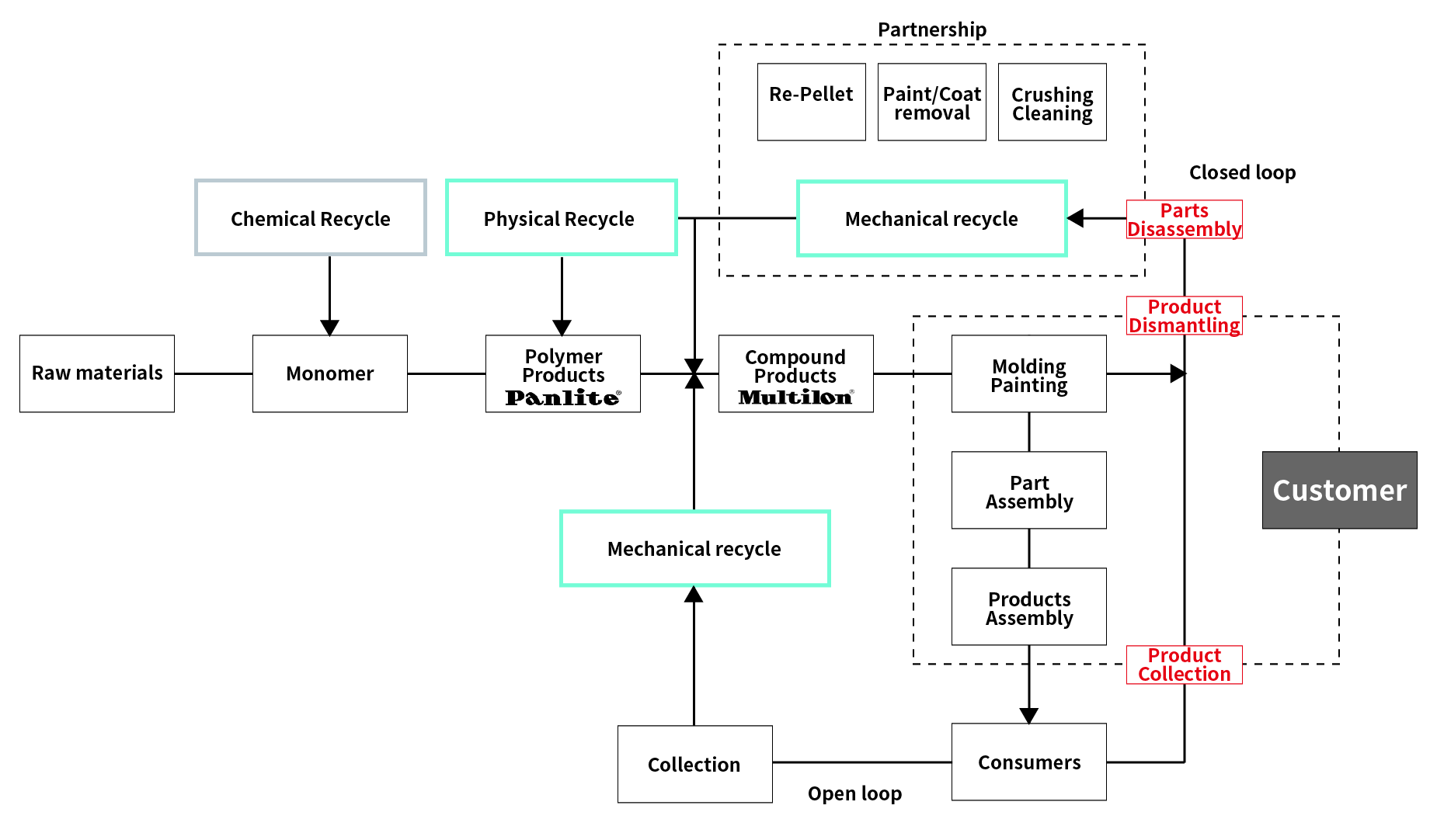 In addition to conventional open-loop material recycling, we will promote closed-loop material recycling in cooperation with our customers and Teijin partners.
In the future, wastes that are difficult to recycle as materials will be recycled as resources through chemical recycling.
Value proposition for Environmental Activities at Customers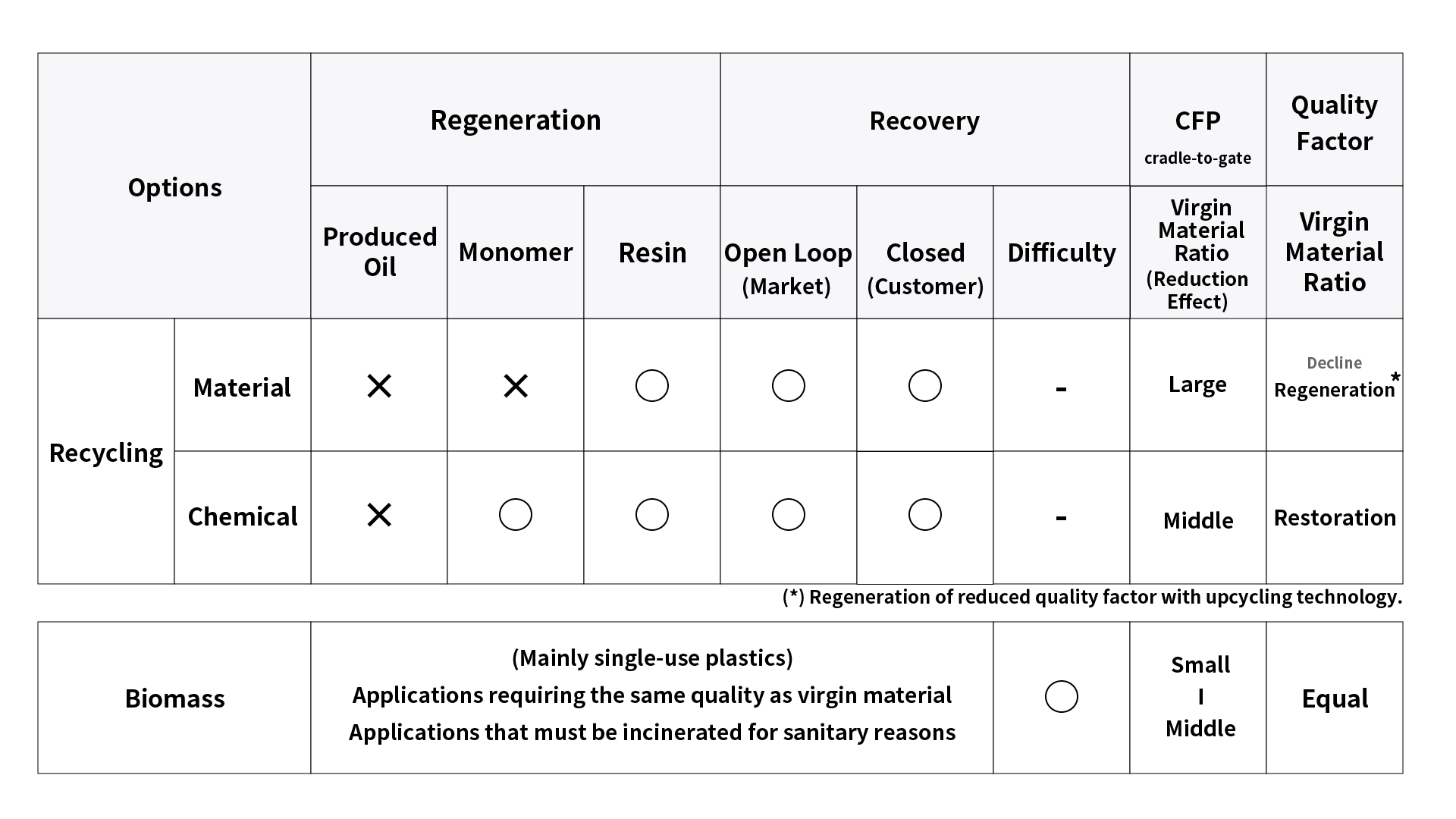 Teijin designs the most suitable solution for your environmental activities from many options
Functional materials that can contribute to reduction of CO2 emissions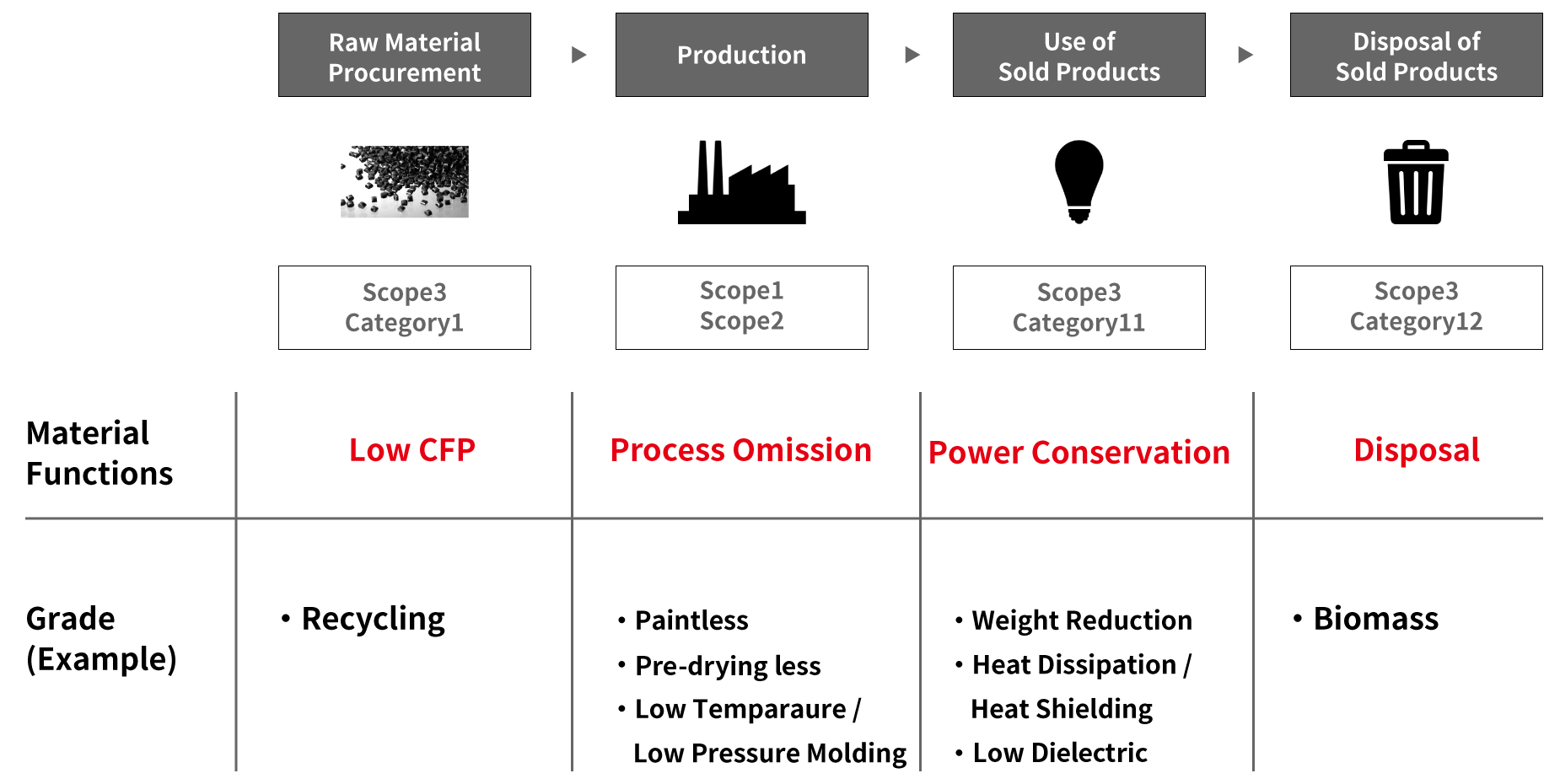 We propose and develop functional materials that can contribute to the reduction of CO2 emission in our customers' supply chains.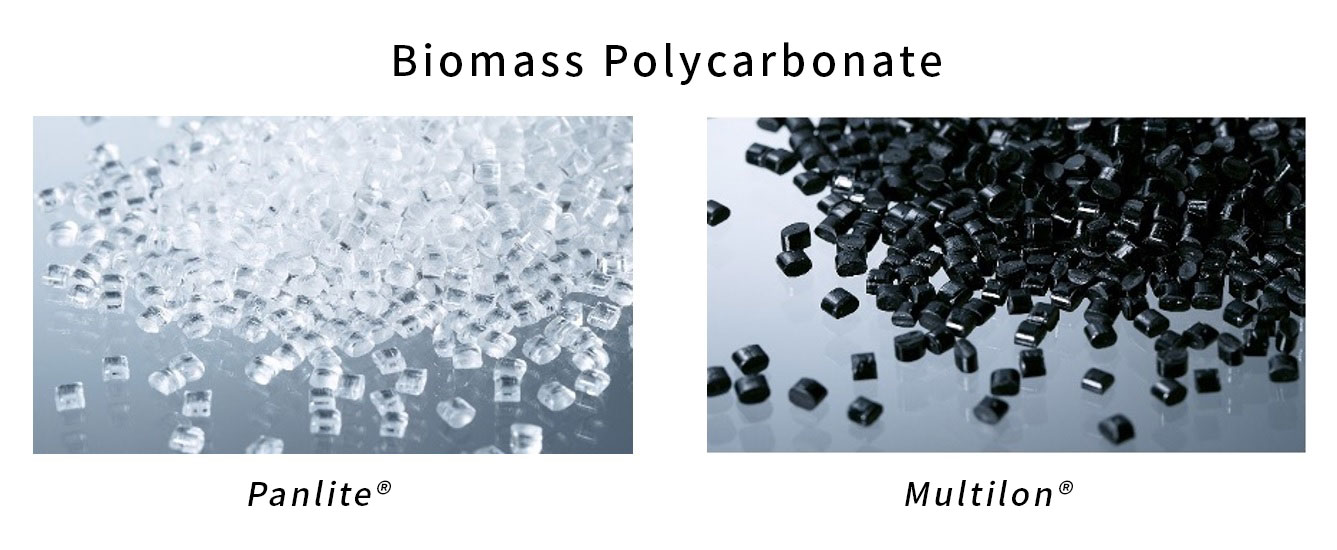 Teijin has acquired ISCC PLUS certification*1, an international certification for sustainable products, for the polycarbonate resin (PC resin) produced in Japan. In addition to the conventional PC resin products using petroleum-derived raw materials, Teijin will start the production and marketing of biomass PC resin products using the mass-balance approach*2 based on the ISCC PLUS certification using bisphenol A (BPA) made from biomass naphtha.
The biomass PC resin products have equivalent physical properties to petroleum-derived PC resin products because the biomass BPA, which is the raw material used, has equivalent physical properties to conventional petroleum-derived BPA. Therefore, they can be easily switched from the conventional products, contributing to the reduction in GHG emissions throughout the product lifecycle.
*1

ISCC PLUS Certification: International Sustainability and Carbon Certification. This is one of the international certifications that manages and guarantees reliability within the global supply chain for products derived from biomass and recycled materials using the mass-balance approach.

*2

Mass-balance Approach: When mixing a raw material with certain characteristics (e.g., biomass-derived raw material) and another raw material (e.g.,petroleum-derived raw material) in a processing and distribution process from raw materials to the product, this approach is for assigning the characteristics to a part of the products according to the input amount of the raw material with the characteristics.
Teijin Limited, Resin & Plastic Processing Business Unit shall commit and declare compliance with the ISCC PLUS requirements in accordance with the latest regulations of the ISCC.
About Products to be Produced and Marketed
Teijin has acquired ISCC PLUS certification for the PC resin products produced in the districts of Matsuyama-shi, Ehime Prefecture, and Mihara-shi, Hiroshima Prefecture. In response to the acquisition of this certification, Teijin will start the production and marketing of the biomass PC resin products using the mass-balance approach.
Teijin's PC resin products with ISCC PLUS certification

Future Deployment
Teijin will deploy an environmentally friendly PC resin product under the brand name of Circular Materials (CM). The biomass PC resin product announced this time will be deployed as one of the product lineups of Panlite® CM and Multilon® CM.
In addition, Teijin will continue to develop new products to further expand its lineup of environmentally friendly resin products.
Inquiry about our products