Solution
Automotive x Teijin Resin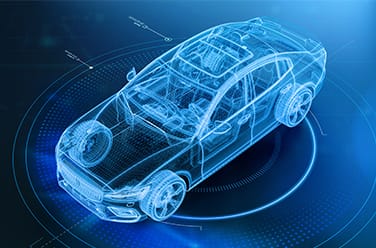 As a supplier of materials to the constantly-evolving automotive industry, Teijin Limited. Resin & Plastic Processing Business Unit offers materials suitable for a wide variety of applications.

Teijin offers a choice of environmentally friendly recycled polycarbonate resins in addition to conventional polycarbonate resins manufactured from petroleum derivatives. We continue to develop products by proposing and customizing products that utilize the strength of materials to reduce weight while maintaining and improving the strength and durability required for vehicle and various vehicle equipment.
Consult Teijin for advice on day-to-day challenges.
Teijin's advantage in the automotive industry

Main applications
Exteriors / Interiors
Lighting instrument
Meter panels / Displays
Electric and electronic components
Sensors
Main clients
Major first and second tier Japanese and overseas corporations

Material development for in-Line painting.
Reduction of creaking noise generated from parts due to vehicle vibration
Reduction of damage of parts upon accident or collision
Reduction of volatile organic compounds (VOC) gas released
Improvement of quality of interiors and exteriors
Support for decorative molding
Metal substitute for exterior parts (Design improvement)

We provide the functions required by the automotive industry.
Recycling
Less gas generation. Less gas deposit. Reductions of VOC
Reduction of creaking noise
Hard surface hardness
Low linear expansion coefficients
Wavelength selective infrared transmission
Transparency and chemical resistance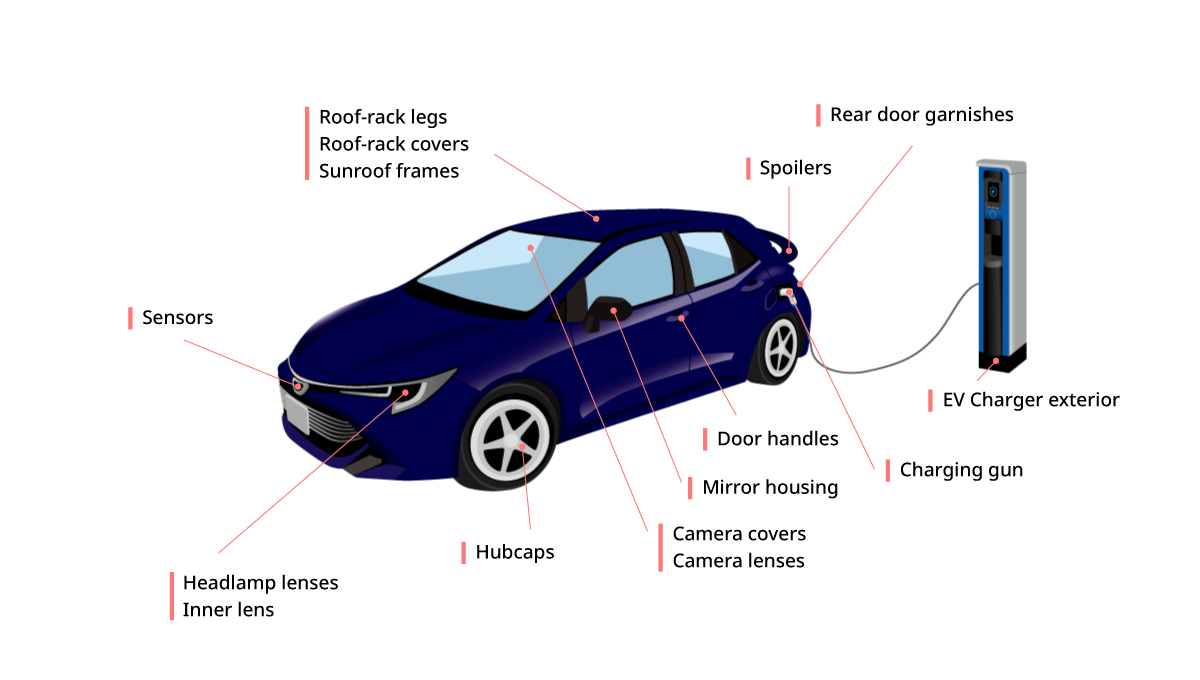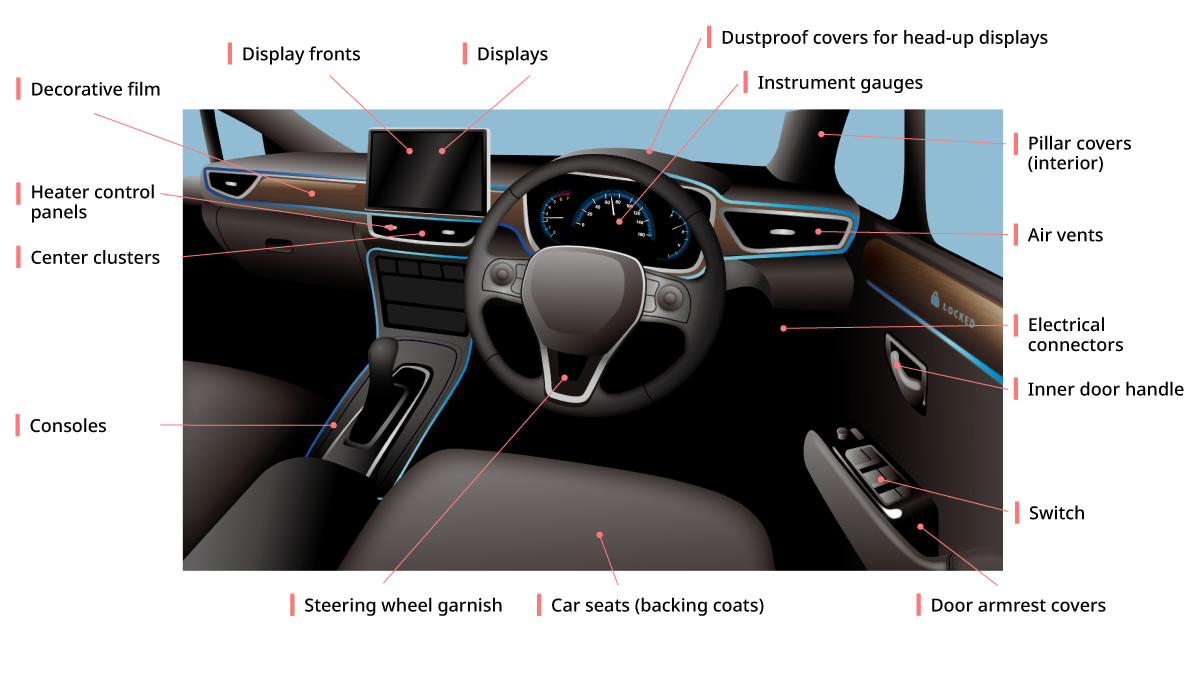 Applications/Features
PC
PC/ABS
PC/PET
Standard/ Transparent/Weatherability/Low gas
Infrared transmission
Low VOC
Low Creaking noise
Good Moldability/Weatherability/Chemical resistance/Low Linear expansion coefficients
Interiors
Automotive Display
L-7000 Series
Interior parts




T-2090R Series

T-2700R Series
Exteriors
Panel/Garnish/Spoiler/Roof Rail
AM-9000 Series
In-Vehicle Sensor
AL Series
Panlite® Special polycarbonate
Applications / Features
High refractive index
High heat resistance
Low birefringence
Long term reliability
In-Vehicle camera
SP-1516
SP-1516
SP-3810
SP-3810
SP-3810
Applications / Features
Chemical resistance
Dimensional stability
Surface hardness
Thermoformability
Low distortion
Retardation control
Low warpage
High durability
Flame resistance
Meter dial
PC-1151
Heat control panel
PC-2151
Interior decorative film
PC-D600,
PC-SB50,
PC-SB70
PC-D600,
PC-SB50,
PC-SB70
PC-D600,
PC-SB50,
PC-SB70
Automotive display front panel
PC-D101,
PC-T101
PC-T101
PC-T101
PC-T101
Dust cover for HUD
PC-813A
PC-813A
| Applications / Features | Flame resistance |
| --- | --- |
| Car seat (Backing coat) | FCX-210 |
| Automotive connectors | FG-7500,FG-8500 |
Case study in Automotive industry
Inquiry about our products